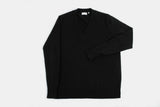 Women's Black V Neck Alpaca Cotton Jumper
£169.00
The V Neck Black
Key details:
Machine washable
V neck
Long sleeve
Flattering fit
Made in Peru
90% Pima cotton 10% royal alpaca
Our mid-weight black jumper, with its deep V neckline, is universally flattering. With its loose silhouette, the V neck is easy to layer or wear on its own making it the perfect piece of knitwear to take you through the seasons. Made with a mix of Pima cotton and royal alpaca (the highest grade of alpaca fibre), it will be a light, airy and versatile addition to your wardrobe.
We suggest…
Tuck it in at the front of trousers or a skirt for a comfortable day at the office or style it with statement jewellery for dinner with friends.
Model is 5'6" and wears a size small.
Care instructions
Hand or machine wash cold.
Do not tumble dry or bleach.
REMEMBER: You do not need to wash wool as frequently as you might think – air it for a while before deciding if it needs a wash!