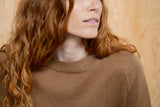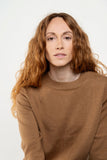 Women's Crew Neck Baby Alpaca Jumper Camel
£149.00
The Alpaca Crew Camel
Key details:
100% baby alpaca
Crew neck
Long sleeve
Flattering fit
Made in Peru
Light and airy, our loose fitting camel crew neck suits both being layered or worn on its own making it the perfect piece of knitwear to take you through the seasons. Made with 100% baby alpaca, it feels as good as it looks.
We suggest…
Dress it up with silk for the office or throw it on with your favourite jeans for the ultimate dressed down luxury at home.
Model is 5'6"and wears a size small.
Care instructions
Handwash or dry clean your alpaca jumper only.
Do not tumble dry or bleach.
See these 5 Easy Steps to Handwashing Your Alpaca Jumper.
REMEMBER: You do not need to wash wool as frequently as you might think – air it for a while before deciding if it needs a wash!
Customer Reviews
04/17/2019
Stephanie J.
United Kingdom
Love my jumper so much!
Even though it's not a bulky jumper it is the warmest thing! Such good quality and I struggle not to just wear it all the time!
03/09/2019
Sally H.
United Kingdom
Lovely soft jumper!
Very efficient and polite personal service.
Beautiful sweater
I recently purchased this sweater and I am very happy with it. I am always looking for timeless basics in great quality and sustainably made so when I found this sweater I knew I had to get it. I love the camel color and the soft material, it goes with everything and is classic yet stylish.
The Perfect Fit
I LOVE my jumper. I don't usually go for camel but this one has a really rich, warm colour and I love knowing that it is a natural colour from an alpaca and not dyed. The best thing about it is the fit - it hangs beautifully and never creases. It's really light and fairly thin (although still very warm) so it's really easy to wear under a coat and you don't feel bulky layering it with a shirt underneath. I even wear it under dungarees! Definitely really easy to dress up or dress down and the colour looks particularly beautiful with gold jewellery. A classic, I will wear it forever.
Best buy I've had in ages
Ive been a supporter of Study 34 since the beginning and every jumper they bring out gets better and better. Its something to do with the style, beautiful quality of the wool and the colours that never disappoint. I would recommend them to everyone. They are quite expensive but worth every penny. I would rather have just one really lovely worthwhile thing in my wardrobe than endless rubbish. Ive hardly taken my jumper off and I never get tired of it. If you buy just one thing this year, let to be this, You will not be disappointed. I simply love mine. Keep going Study 34. I cant wait for what you are coming out with next.